STERILISER EOD MINI
EOD MINI ¨C a device for production of ecologically friendly desinfection solution from tap water (spring water) that kills 99,9% bacteria, viruses, fungy, mold and other patogens (including virus §³OVID19).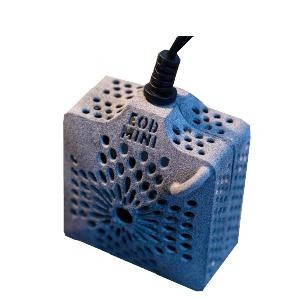 Generation rate of desinfection solution from water:
1-10 litres per cycle
MIN cycle duration:
1 minute
MAX cycle duration:
120 minutes
Term of use:
15 minutes after end of cycle
Dimension:
66mmx60mmx45mm
Weight:
90g
Country of manufacturer:
Finland
Warranty:
12 months
Mild microbial load 1 minute per litre of water (N min. per N litres) - general/upkeep cleaning, gentle sanitation, treating plants
Medium microbial load 2 - 5 minutes per litre (2N-5N min. per N litres) - general sanitation, WC cleaning, stain removal, hand sanitation, rinsing fruits and vegetables
Greater microbial challenges 10 minutes per litre (10N min. per N litres) - avoid germ transfer (pet cages, transportation vehicles, fishing gear, toys, planting pots, etc.), bad smells and tricky stains
Heavier microbial challenges and environment with other contamination§³§Ú§Ý§î§ß§Ñ§ñ 20 minutes per litre of water (20N min. per N litres) - piping/drains, perlite wash from algae, etc.
Orders are accepted by phone: +38 (050) 343 88 03.